Keynote - Monta Elkins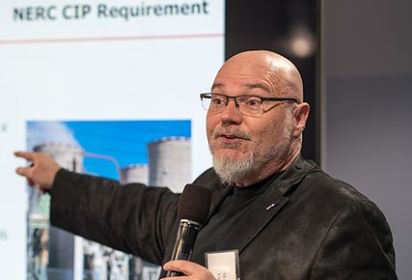 The award-winning Monta Elkins is Hacker-in-Chief for FoxGuard Solutions, a SANS Certified Instructor, Cybersecurity Researcher, U.S. Patent recipient, and Educator. He is also known as the infamous creator of the electronics YouTube Channel "Diet Coke and Wire Strippers" (aka "Coke & Strippers") https://tinyurl.com/y6vpmbw4.
Considered by many of his friends to be the Chuck Norris of ICS (Industrial Control System) Cybersecurity, Monta Elkins is also BFFs with the elusive #TrooperBR549. His most recent research accomplishment is featured at WIRED. https://www.wired.com/story/plant-spy-chips-hardware-supermicro-cheap-proof-of-concept
Monta has been a speaker at more security and ICS conferences than even his enormous ego can remember including: DEFCON, CS3STHLM, BSIDESLV, GE Digital Energy, ICSJWG, GridSecCon, Distributech, CIP Emerging Technology Roundtable, ICS CyberSecurity, UTC Telecom, Hack the Capitol, and SANS ICS Summit. In total he has presented at over 50 different security conferences in the past 7 years.
Known for having once discovered ALL the devices on an ICS network, he has served as a guest lecturer for colleges, universities, and elsewhere teaching Arduino programming/circuit design, SDR, rapid prototyping techniques, and other ICS and security topics.
As a small child, Monta entertained himself by memorizing Pi – backwards.
Nick Roy
Nick Roy is currently a Senior Security Specialist at Splunk focusing on security automation and improving blue team response. Before Splunk, Nick was at Phantom Cyber working with partners across the globe build out their security automation practices and delivering them to their customers.
Mark Manning
Mark Manning is a Technical Director with NCC Group and heads the container research practice there. He has been focused on containerization and orchestration technologies like Kubernetes and performs many of NCC Group's containerization related assessments and research. This includes running container breakouts and attack simulations on orchestration environments, performing architecture reviews of devops pipelines, and working with developers to assist with applications that leverage containerization technologies like namespace isolation, Linux kernel controls, syscall filtering and integration with products like Docker and Kubernetes.
Ravi Devineni
Ravi Devineni is a Director of Cloud Engineering at Northwestern Mutual for a team responsible for CI/CD tooling for the whole enterprise. Previously Ravi worked at companies like Amplify/Oracle holding variety of roles including Developer, Architect, Database Administrator, Engineering Manager
Qasim Ijaz
Qasim "Q" Ijaz is Director of Penetration Testing at Coalfire LABS, who specializes in healthcare security and penetration testing. He has conducted hundreds of penetration tests in small to large environments with a focus on networks and web applications testing. His areas of interest include healthcare security, cybersecurity policy, Windows penetration testing, Python, and the "dry" business side of hacking. Qasim is a penetration test lead during the day and a teacher in the after-hours. He has delivered training at conferences as well as in college classrooms.
Thomas Cappetta
Thomas Cappetta is a Vulnerability Research Engineer at Tenable, the world's best cyber exposure company. His technical career started in Enterprise IT Operations, at two of the world's largest banks. He embraced the DevOps movement in 2009, then navigated through the Quality Assurance, I&AM Automation Engineering, & Cloud Computing domains to earn his CISSP. Today, this Vulnerability Research Engineer supports the SecDevOps & Offensive Security movements with open-source GitHub projects aiming to "close the knowledge gap." He seeks to inspire & collaborate with security professionals across the world through his open-source SecDevOps-Cuse/CyberRange project which provides a bootstrap framework for an offensive security research lab containing vulnerable systems/applications, a kali/commandoVM combination of offensive toos, FlareVM for malware. and honeypots for security intelligence. It simply provides a researcher with a disposable AWS-based lab in less than 10 minutes.
Zach Bevilacqua
I am a security engineer who built detection methods and response tactics for a fortune 60 company, as well as penetration testing on access controls and authentication methods for hosted services. I have technical interests in malware analysis and reverse engineering. My main goal in my career is to make sure we solve actual problems at their source and not tend to the symptoms. It's my hope to be able to transfer my knowledge to other people in some way that it's helpful to them. Dogs are cool but cats are better.
Greg Stachura
Greg started work in IT more than 20 years ago fixing computers as an intern, moving on to a computer science degree and a system administration job at a credit union, before going full time into the security field. Since then he has worked in the higher ed, financial and healthcare industries working as anything from a security engineer to an incident response lead. He now works as a manager at Security Risk Advisors working on many things, including SOC operations, forensics, threat hunting and incident response. Greg holds a computer science degree from Boston College, an MBA from RIT, and several certifications, including a CISSP, GCFA, and CySA+.
Nick Regelman
Working in various roles from Help Desk to Systems Administration, Nick has spent the past 5+ years working as a core member of a Security Operations team. With a passion for security and empowering others, Nick is a hacker at heart with a sprinkle of people skills.
Matthew Gracie
Matthew Gracie has over a decade of experience in information security, working to defend networks in higher education, manufacturing, and financial services. He is currently an Information Security Engineer with BlueCross BlueShield of Western New York and the founder of the Infosec 716 monthly meetup. Matt enjoys good beer, mountain bikes, Debian-based Linux distributions, and college hockey, and can be found on Twitter as @InfosecGoon.
Brian Callahan
Brian Callahan is a Lecturer in the Information Technology and Web Science program at Rensselaer Polytechnic Institute in Troy, NY. He oversees the Information Security concentrations of the major at both the undergraduate and graduate levels, and teaches many of the cybersecurity courses offered. He is a long-time developer for the OpenBSD operating system.
Matt Arnold
Matt Arnold is a Unix Wizard for hire., in a past life he contributed to projects like Debian, Ubuntu, Slackware and others. His Current Hobbies include auditing IoT firmware for GPL compliance, and other issues
Joe Gray
Joe Gray joined the U.S. Navy directly out of High School and served for 7 years as a Submarine Navigation Electronics Technician. Joe is currently a Senior OSINT Specialist at Qomplx, Inc. and previously maintained his own blog and podcast called Advanced Persistent Security. Joe is the inaugural winner of the DerbyCon Social Engineering Capture the Flag (SECTF) and was awarded a DerbyCon Black Badge. As a member of the Password Inspection Agency, Joe has placed 2nd in the HackFest Quebec Missing Persons CTF powered by TraceLabs, 2nd in the BSides Atlanta OSINT CTF, and 3rd Place in the 2018 & 2019 NOLACon OSINT CTFs. Joe has independently placed 2nd in the HackFest Quebec SECTF, 4th Place in the DerbyCon OSINT CTF, and 2nd Place in Hacker Jeopardy at Hack in Paris. Joe has contributed material for the likes of TripWire, AlienVault, ITSP Magazine, CSO Online, Forbes, and Dark Reading as well as his own platforms.
Joe Gray is currently a Senior OSINT Specialist at Qomplx, Inc. and previously maintained his own blog and podcast called Advanced Persistent Security. Joe is currently finishing a social engineering and OSINT book with NoStarch press, due for publication in Fall 2020. Joe the inaugural winner of the DerbyCon Social Engineering Capture the Flag (SECTF) and was awarded a DerbyCon Black Badge. As a member of the Password Inspection Agency, Joe has placed 2nd in the HackFest Quebec Missing Persons CTF powered by TraceLabs, 2nd in the BSides Atlanta OSINT CTF, and 3rd Place in the 2018 & 2019 NOLACon OSINT CTFs. Joe has independently placed 2nd in the HackFest Quebec SECTF, 4th Place in the DerbyCon OSINT CTF, and 2nd Place in Hacker Jeopardy at Hack in Paris. Joe has contributed material for the likes of TripWire, AlienVault, ITSP Magazine, CSO Online, Forbes, and Dark Reading as well as his own platforms. Joe has spoken at conferences such as RSA, AtlSecCon, HackFest, SecTor, Insomni'hack, Hack in Paris, and HackerHalted (as a keynote speaker twice.)
Social Media- Twitter: https://twitter.com/C_3PJoe; LinkedIn: https://www.linkedin.com/in/joegrayinfosec/ ; Facebook: https://www.facebook.com/joegrayinfosec ; Blogs: https://advancedpersistentsecurity.net/